San Diego County Real Estate Report…
2011 in San Diego County Real Estate was a mixed bag of numbers.
Single-family, re-sale home sales were up 2.5%.
The median price for homes dropped 5.3%.
The average price dropped 3%.
Condo sales in the county were down 5.7%
The median price for condos dropped 6.8%.
THE CALIFORNIA ASSOCIATION OF REALTORS®
expects the State median home price to increase 1.7% in
2012. They forecast sales to increase by 1%.
SAN DIEGO MARKET STATISTICS Dec 2011 vs. Dec 2010
Single-family, re-sale homes were up 8.3%
This is the sixth month in a row home sales have been higher than the year before.
Condo sales were up 25% year-over-year.
Median price of homes was down 5.3%.
The median price for condos rose 2.5%.
Home inventory was down 14.7%.
Condo inventory was down 29.4% year-over-year.
Pending home sales grew by 9.7% year-over-year.
That's thirteen months in a row pending sales have
been higher than the year before.
Please remember, while statistics are nice, they will
not determine the price you pay or get for a property.
That will come down to you and the buyer or seller.
See the full reports with all the numbers at
http://www.sandiegohomes4u.com/RealEstateTrends.htm
What does this mean for you?
NOW is an ideal time to buy a home in the San Diego area…
or to sell a home, especially if you are moving up or even.
Because:
Historically low interest rates – some under 4%.
Lowest prices since 2000 in many San Diego areas.
Buy now for lower costs & lower property taxes.
You can buy a home with a monthly payment that is 50% to 70% lower
than the payment on the same home, 5 years ago
If you or someone you know is in financial difficulty,
now is probably a good time to do a short sale.
Prices are not expected to go up much, so dump (short sale)the underwater home now and get back in the market in 2 years before interest rates go too high..
What is your time frame? 
Call me so we can set up a game plan for you,
whether it is for a transaction this month or later this year. 
A short meeting now can make a huge difference later.
Call me today at 760-436-0087.
We are in a SELLERS MARKET  in many areas of San Diego County. We only have a 3.75 month supply of homes.  Five to 6 months is considered a balanced market.  I have been seeing multiple offers on many properites from Oceanside to Chula Vista.  Of course, each neighborhood is different so check with me about the areas you are interested in, whether you are a buyer or seller.
Are we at the bottom?  Some say yes and some say no. But here is a possible solution for that…A company called EquityLock that has a Home Price Protection Plan. They will pay you if the local market has declined when you sell your home (after 2 years).
Existing Homeowners, Buyers and Sellers can all benefit from this program…
Ask me how. 
Click on the following link to see all 672 Bank Owned houses, Condos,
Townhomes & Twinhomes in San Diego County. Down from 795 in Dec.
http://tinyurl.com/BankHomesInSanDiego
These are the lowest numbers of distressed property inventory we have seen in years in the San Diego Real Estate Market!
Go to my site for the full report, plus a city-by-city breakdown with trend charts.
http://www.sandiegohomes4u.com/RealEstateTrends.htm
Because all neighborhoods are different, call me for information
on the criteria or neighborhoods you have an interest in.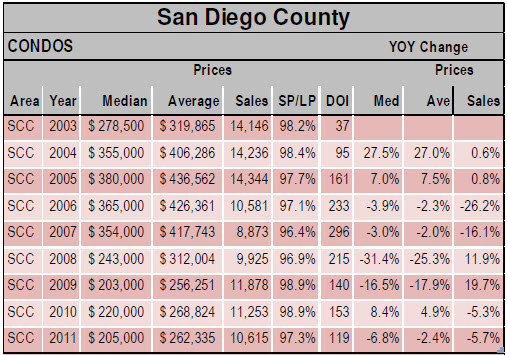 Please click the following link to view the whole newsletter in your Internet browser:
http://tinyurl.com/1-2012-RealEstateNewsletter
This San Diego Real Estate Jan 2012 Newsletter &
2012 SD Real Estate Outlook is brought to you by:
Dennis Smith, ABR, SRES, e-PRO, CDPE, Realtor® CalBRE# 00476662
Certified Distressed Property Agent
Sunshine Smith, SFR, Realtor® CalBRE# 01249837
Short Sale, Foreclosure Resource Certified
RE/MAX BY-THE-SEA
dennis@SanDiegoHomes4u.com 
www.SanDiegoHomes4u.com
760-436-0087 or cell at 760-212-8225
Providing quality Real Estate services in the North Coastal San Diego area
including Del Mar, Solana Beach, Rancho Santa Fe, Cardiff by the Sea,
Encinitas, Leucadia, Olivenhain, Carlsbad, La Costa, Aviara, Oceanside,
Vista, San Marcos, San Elijo Hills, Escondido &  all San Diego County.